Press Release
Eureka Award Program Honors Achievement in Construction
Eureka, MO October 4th, 2022: Integrated Openings Solutions – St. Louis has been selected for the 2022 Best of Eureka Award in the Construction Company category by the Eureka Award Program.
Each year, the Eureka Award Program identifies companies that we believe have achieved exceptional marketing success in their local community and business category. These are local companies that enhance the positive image of small business through service to their customers and our community. These exceptional companies help make the Eureka area a great place to live, work, and play.
"Eureka is a terrific place to live, work, or operate your business. In Eureka, you are a short drive away from great places to eat, shop, bank, or stay, and nearby highways can take you anywhere you need to go in the St. Louis area. Our IOS teams love working in Eureka and we're looking forward to more exciting projects for this amazing community."

-Alex Gentry, Sales Manager, IOS St. Louis
Various sources of information were gathered and analyzed to choose the winners in each category. The 2022 Eureka Award Program focuses on quality, not quantity. Winners are determined based on the information gathered both internally by the Eureka Award Program and data provided by third parties.
"IOS is proud to have built such incredible relationships with businesses in and around Eureka. The City of Eureka is a thriving community with the spirit of a small town. We will honor this award by continuing to provide automatic doors, specialty doors, and other commercial doors to businesses and institutions in Eureka."

-Mike Foster, CMO, IOS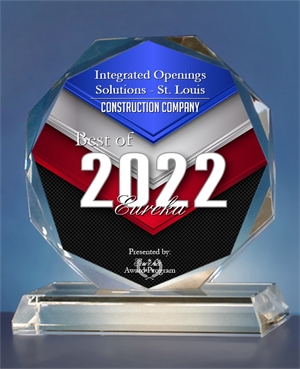 About Eureka Award Program
The Eureka Award Program is an annual awards program honoring the achievements and accomplishments of local businesses throughout the Eureka area. Recognition is given to those companies that have shown the ability to use their best practices and implemented programs to generate competitive advantages and long-term value.
The Eureka Award Program was established to recognize the best of local businesses in our community. Our organization works exclusively with local business owners, trade groups, professional associations and other business advertising and marketing groups. Our mission is to recognize the small business community's contributions to the U.S. economy.
Visit integratedopenings.com/capabilities to find out what IOS do for your project.
---
About Integrated Openings Solutions, LLC – IOS fabricates, distributes, markets, and sells commercial and architectural metal and wood doors, frames, hardware, automatics, access control, sectional/high-speed roll-up doors, storefront systems, and gate access systems, and performs related services, including turn-key installation and fire/code inspections, for government, warehouse and industrial, hotel and hospitality, multi-family and assisted living, school (K-12 and university), hospital, and retail customers across the United States. IOS is led by a team of experienced industry leaders. For more information, visit www.integratedopenings.com.