Automatic Door TECHNOLOGY
Integrated Openings Solutions provides automatic door technology for a wide variety of buildings and code standards. Touchless openings offer unmatched ease of access, security, and all the benefits that come with contactless entry.  Swing doors, by comparison, experience security issues and trouble with accessibility.
When your project calls for automatics, our staff will determine the optimal materials and technology to implement in your building. You'll choose from a catalog of styles, colors, and sizes to ensure that these doors are functional and enhance the look and feel of your space.
Working with IOS is as simple and effective as stepping through an automatic door. Our sales staff, installers, and technicians pride themselves on excellent response times and customer service. As a result, we listen carefully to you and deliver solutions that are designed to meet your needs. Additionally, our staff has industry-leading experience and knowledge related to building codes, including the Americans with Disabilities Act. Therefore, we will guarantee that their work is fully-compliant with all applicable service and repair standards.
Healthcare facilities, airports, grocery stores, banks, and residential spaces can all benefit from automatic sliding doors or automatic door technology in general. Integrated Openings Solutions can furnish your building with touchless openings, door openers, and motion sensors. As a result, this enhances the overall hospitality, cleanliness, and safety for the people who use them, every day.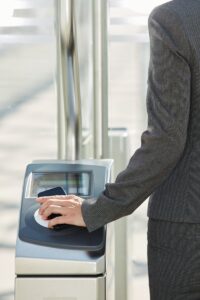 Integrated Openings Solutions, LLC (IOS) is a network of architectural and commercial openings solutions providers. We offer best-in-class customer service, capabilities, and products for projects needing Division 8, 10 and 28 specialization.
Want to learn more about how we help clients with Automatic Door Technology?