Architectural Door Hardware
The choices available for city door hardware can be overwhelming for anyone looking to replace doors in their building. Therefore, Integrated Openings Solutions (IOS) removes uncertainty by offering unmatched expertise to guide you through your architectural door hardware options.
We supply architectural / commercial doors hardware for any project, from small residential structures / restaurants to school facilities and office buildings. IOS's knowledgeable in-house project managers, estimators, and detailers provide the right hardware for every type of opening. From basic locksets to complex electronic or touchless systems, IOS delivers. 
IOS sources our hardware from the best in class manufacturers in the industry.  As a result, we carry an extensive inventory with multiple warehouses and capabilities to provide custom solutions for our customers. Therefore, if you have a problem that can be solved with hardware solutions but don't know where to start, contact IOS. In conclusion, we can help you better understand your options and design a hardware plan that will meet your needs.
The IOS team has decades of experience providing architectural door hardware services and products to contractors and building owners.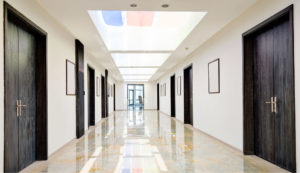 Want to learn more about how we help clients with Architectural Door Hardware?